Things to do: Myrtle Beach is truly unique and has things to do you cannot find at other beach areas. There is remarkable food, world-class golf, and an amazing amount of fun and games for families. In fact, there is so much to do and experience that people forget to wet their feet in the water! If that has piqued your interest, read on to know the many attractions at Myrtle Beach that you can enjoy with your family and loved ones.
Restaurants: There are a number of restaurants that you can eat at on a day out at the beach. In fact, there are so many restaurants that you will be lost for choice. Here's a sample:
Carolina Road House: If you are on the lookout for steaks that melt in the mouth, head out to Carolina Roadhouse. This diner is a favorite among locals and dishes out the best baby-back ribs, and grilled steaks apart from the staple seafood which is common at Myrtle Beach. An open kitchen creates the right atmosphere and mood to feast on the chef's specials. Reserve a table in advance unless you want to wait in a long queue.
SeaBlue Restaurant and Wine Bar: And, if seafood is on your mind, you again have plenty of options. But, the SeaBlue Restaurant tops the list. This is a modern eatery with a unique blue and green lighting that will set the mood for a romantic date with your beau. Apart from great seafood, you can also order out special cocktails from the bar's menu. What's more? The restaurant allows couples to share!
Beach Clubs: Myrtle Beach is famous for its many dance bars and clubs since as early as the 1950s. The live music played by popular bands on moonlit nights amidst the sound of waves crashing against the shores, is something that is best experienced.
Revolutions: If you love music and if you love crowds, you will love Revolutions where peppy tunes from the 1970s will get your feet moving and your body jiving. This dance bar attracts clientele from all walks of life. This dance bar also hosts some of the best bachelor parties in town.
Beach Resorts: There is no better way to enjoy a weekend with your family than by planning a visit to Myrtle Beach. There are world class resorts that look right into the sea and allow you to enjoy the many frills that the heart desires.
Litchfield Beach & Golf Resort: This is a resort in a setting like no other. It has been built on a land that was once a rice plantation and is beautiful from all angles. You can book an ocean facing private cottage or a golf villa based on your preference. This seaside resort has amenities such as pools, tennis, and bicycle rentals. It also has a well-kept golf course with 3 championship courses.
You can also shop till you drop at the many malls that line the Grand Stand. From really massive complexes such as Broadway to smaller shopping havens like the Pawleys Island Hammocks Shops and Hudson's Flea Market, there is something to fit every shopper's fancy and taste. 
Here's a list of attractions just some of the attractions you can see: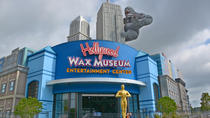 Hollywood Wax Museum Myrtle Beach